Gunmen in north London sent the friends and family of a young woman who had died from leukaemia running and screaming outside a memorial service for her and her mother, witnesses said.
A suspected drive-by shooting outside St Aloysius Roman Catholic Church in Euston has left three women and a young girl in hospital.
Officers said three women – aged 48, 54, and 41 – were taken to hospital following the incident on Phoenix Road.
A seven-year-old girl was also taken to a central London hospital with injuries believed to have been sustained in the same incident.
One resident of an estate across the road from the church, who did not want to give her name, said: "I heard the gunshots.
"I was having a quiet day on my balcony and I heard this almighty bang and I thought this was not normal, and the next minute everyone was screaming and shouting.
"We have a food bank there and everyone was running off. Neighbours came in and said there has been a shooting. What a terrible thing."
Police had initially described the service at the church as a funeral, but Father Jeremy Trood, who conducted the service, confirmed it was a Requiem Mass for Sara Sanchez, 20, and her mother, who both died within a month of each other in November.
Ms Sanchez suffered from leukaemia for three years before succumbing to the disease after her mother died suddenly from a rare blood clot on arrival at Heathrow from Colombia, MyLondon reported.
Father Trood said: "I was inside the church. I heard the bang and people ran back into the church. They knew something had happened outside.
"They were very scared, people sheltered in the church until the police said they can leave but some of them were so scared they had to wait a while to get their confidence back up to go outside.
"But I was in the church the whole time so I didn't actually see what had happened."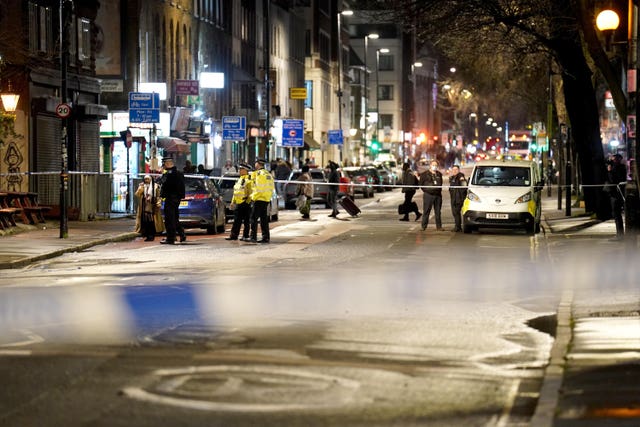 Sue, 54, a resident of the block next to the church who preferred not to give her last name, said the shooting victims were "lucky to get an ambulance" given the current crisis in the NHS.
She said: "I heard screaming going on but that is not unusual for around here. I heard shouting and I came out and saw the police and ambulances.
"It was probably a revenge thing, around here there is a lot of crime. It's just getting worse, a lot of drug abuse. On this estate we have gangs hanging around on different corners
"They must have caught the car on CCTV, round here it would got stuck in traffic."
Mayor of London Sadiq Khan said: "This is a deeply distressing incident and my thoughts are with those who were injured and their families.
"A police investigation is now under way and I am in close contact with the Met Police to determine what happened.
"I urge anyone with information to call 101, giving the reference 3357/14JAN. Information can also be provided to Crimestoppers, anonymously, on 0800 555 111."